Mountain Whitewater Paddleboard Trips in Fort Collins Magazine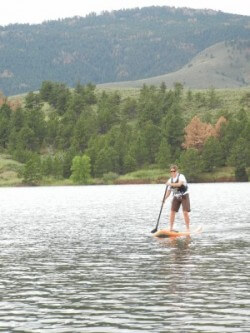 Mountain Whitewater earned a mention in the latest issue of Fort Collins Magazine as part of a NOCO Bucket List article. The article, titled "The Official Love-Living-Here, Gotta-Do-It, Kick-A** NOCO Bucket List," outlines 50 things to do in the Fort Collins area that should be on everyone's bucket list. Activities on the list include visiting restaurants and breweries, wildlife viewing opportunities, arts and culture attractions, showing your Ram pride, music events, cycling opportunities and outdoor recreation options among others.
Mountain Whitewater was featured under option 14: "Paddleboard on Horsteooth Reservoir" for our guided paddleboard trips and paddleboard rentals. While whitewater rafting is still our core business, paddleboarding (also know as Standup Paddleboarding or SUP) has become a popular activity for the business as well. Paddleoarding is fun, great for fitness and provides opportunity to explore our waterways. The Cache La Poudre River also provides paddleboarding opportunities for the more the adventurous paddler. Also try our relaxing paddleboard yoga classes for another unique paddleboard activity.
Item number 47, "Rafting the Cache La Poudre River in June," is another bucket list item that can be checked-off at Mountain Whitewater. This list item also includes a photo of one of our rafts navigating the river at Pine View Falls. Whether it by through our whitewater rafting adventures or our paddleboard offerings, we are quite happy to help folks check a couple of items off of there NOCO bucket list. Thanks to our friends at Fort Collins Magazine for mentioning our business in this entertaining and informative article.