Whitewater Rafting Trips – Cache La Poudre River
Whitewater rafting vacations on Colorado's only "Wild and Scenic River" near Fort Collins and Estes Park, the Cache la Poudre! (pronounced poo-dur)
Mountain Whitewater is proud to have a special use permit from the Roosevelt National Forest. The permit guidelines keep river use low so that the Poudre delivers an exceptional wilderness rafting experience. In fact, many Coloradoans consider it the best canyon and river in Colorado. Check out the Poudre page to find out how special Colorado's only "Wild and Scenic" river really is or just come rafting and find out for yourself.
Conveniently located only about 80 minutes from Denver and Estes Park, the Poudre offers some of the closest, most exciting, and still somewhat unknown, whitewater rafting in the state. The river starts in the snow capped peaks of Rocky Mountain National Park near Estes Park, then twists, turns, and tumbles through cliffs and rock spires. Its almost continuous rapids keep your adrenaline flowing, and the chances to see eagles, deer, black bear, and big horn sheep will keep your eyes open.
This is what whitewater rafting is all about in Colorado! Fun – Rapids – Scenery – Team Building – Excitement – Adventure – Family – Memories – Wheeeeeeeeeeeeeeeeeeeeeeeeeeeeeeeeee!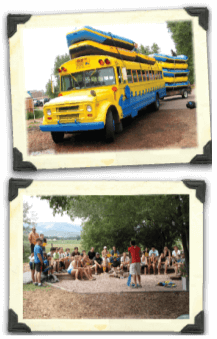 Bringing a dog? Bamboo has constructed a couple of shaded dog pens for use while you are rafting. Your best friend will be much happier in our shaded kennels than in your car, so bring your pooch.
After your trip, enjoy a fantastic local craft beer or glass of local wine in our Paddler's Pub while viewing the photos and videos from your rafting experience. Start a match on our sand volleyball court, walk the nature trail or play one of our many yard games. Make sure to stop in on Friday evenings and Sunday afternoons for free live music form great Fort Collins bands.
While in the Fort Collins area, you could also visit some great restaurants in Fort Collins, go shopping or take a brewery tour at one of our many, world-class craft breweries. Fort Collins' historic Old Town Square was the model for Disneyland's main street. Bring the family! Check out our Local Information page for more information on all of the great things to do in and around Fort Collins.
WE WILL take care of you in every aspect of your trip. From the moment you book your trip, to when you enter the parking lot and check-in, to the bus ride, and of course, on the river. After the trip we will have photos and video of your adventure in Colorado so that you can share the memories for years. Please contact us if you have any questions.