Things To Do in Fort Collins, CO During the Rafting Off-Season
by Ben Costello, March 2018
Summertime in Fort Collins, CO is an amazing time of year. It is the busiest time of year for visitation, outdoor activities, and recreation. Of course, it is the time of year to experience world-class rafting on the Cache La Poudre River with Mountain Whitewater. However, the area does have a multitude of things to do when you cannot go rafting. Spring, Fall, and Winter are a great time to visit or live in Fort Collins. More and more lately, I receive phone calls in our office asking about things to do during our rafting off-season. So, here is a list of ten things to do in Fort Collins when you cannot go rafting.
1. Find a Trail
Hiking trails (and snowshoeing in winter) are readily available around Fort Collins year round. Areas like Horsetooth Mountain Open Space, Lory State Park, and the lower Poudre Canyon offer great hiking trails. Spring and Fall are the best times to find open trails, but it is not uncommon for many trails to remain snow free for most of the year.
Cameron Pass area offers many trailheads for snowshoeing and has snow most of the winter. Cameron pass is a reasonably short drive northwest of Fort Collins up Highway 14 through the Poudre Canyon. The area offers lots of great trails like Blue Lake, Zimmerman Lake, Montgomery Pass, Lake Agnes, Big South Trail and more. It is important to remember that these areas are not controlled for avalanches and can be dangerous. When traveling in the backcountry, be prepared. Get local knowledge or go with an experienced person. Always check local avalanche conditions and carry the proper avalanche safety equipment if you plan to travel in avalanche terrain.
For more information about easy access to hiking and snowshoeing near Fort Collins, contact Visit Fort Collins. For more information about the backcountry terrain around Cameron pass, contact Diamond Peaks Ski Patrol.
2. Enjoy Live Music
The music scene in Fort Collins has exploded over the past ten years. While summertime sees tons of outdoor music, music festivals and concerts at the famous Mishawaka Amphitheater, there are lots of opportunities for live music the rest of the year. The Lincoln Center is a City-owned theatre that hosts a wide variety of shows. Countless bars and pubs host live music throughout the City. The Aggie Theater, Hodi's Half Note, and The Armory are all small to mid-sized theaters that host live shows all year. The newest theatre in Fort Collins, the remodeled Washington's will be another gem. With all these locations, you can find live music in Fort Collins almost every night, but certainly every weekend.
FoCoMX, one of the best music festivals in Colorado, occurs in Fort Collins in April. This annual event boasts over 200 bands playing at over 20 venues in town over the course of a weekend. This festival showcases how truly special the music scene in Fort Collins really is. The Scene Magazine website is a great resource for music events in Fort Collins.
3. Drink Craft Beer
Fort Collins is famous for craft beer. It is known by most beer lovers as the craft beer capital of Colorado. Fort Collins brewers are some of the most well known in the country. With 24+ craft breweries in town, it will take more than one day to try them all. Many of the brewers are located in the Old Town area, including Odell Brewing Company and New Belgium Brewing, the two largest in the city. Other breweries can be found in the Old Town area, but it is not the only place to find great beer. Horse & Dragon Brewing is tucked away in an industrial area in northeast Fort Collins. Guilded Goat Brewing Company is situated in mid-town Fort Collins and Zwei Brewing can be found in the southern part of the city.
Many locals like to create their own self-guided tours of the different craft beer manufacturers. They all have tasting rooms or brewpubs onsite. Ride your bike, take the Max, or use a ride service as it can be hard not to try everything. Visit Fort Collins produces a FREE tasting journal for you to keep track of all the amazing beers you sample. If a self-guided tour is not your speed, there are also professional guided tours available. Call the Magic Bus to reserve your tour that includes a ride, local information and history, water, and snacks.
4. Ride a Bike
According to the League of American Bicyclists, Fort Collins is one of only three Platinum rafted Bicycle Friendly Communities in the entire country. Riding bikes in Fort Collins is accessible, safe, and fun. Many roads in the City are bicycle friendly, and more are designed specifically to accommodate bike traffic each year. The Poudre Trial runs along the Poudre River through town and is a perfect location for a nice ride. There are several other trail systems in Fort Collins for cyclists to enjoy on both road bikes and mountain bikes. Bikes are a great way to get out, exercise, and enjoy all the things Fort Collins has to offer.
FC Bikes, a part of the local government devoted to safe cycling, organizes bike-related events throughout the year. These events include Bike to Work Days, Open Streets Events, and the new Big Jump Program.
If you do not own your own bike, Fort Collins has a couple of programs to help. The Fort Collins Bike Share program is an innovative form of public transportation through short-term bike use. There are 17 different stations around the city with more than 90 bikes available. Cost is only $2 per hour or you can purchase memberships. The Fort Collins Bike Library is a free service that allows registered residents and visitor to borrow bikes for longer periods of time, up to five days.
5. Catch a Movie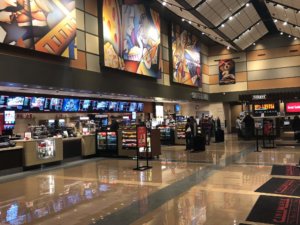 Fort Collins has lots of options for moviegoers for a mid-sized city. There are five different movie theaters in town, three show regular price, big label movies and one shows older movies at a discount price. One favorite is the Cinemark Movie Bistro that offers multiple screens featuring mainstream movies and large, comfy, reclining chairs. The Bistro servers your average movie snacks, but also has real food, ice cream, beer, and wine. Another favorite option is the unique Lyric Cinema. It is a part coffeehouse, part community hub, and part theatre. They offer great food, drinks, beer, bubble tea and show a lot of independent and local films.
Finally, Fort Collins is home to one of six remaining drive-in movie theaters in Colorado. The Holiday Twin Drive-in is open seasonally in the summertime, so you will have to go to a movie after your rafting trip to visit this gem. They have two big screens that show two movies each, every evening.
6. Grab a Bite
Fort Collins has one of the highest numbers of restaurants and eateries per capita in the country. You can find everything from fast-casual to fine dining. Although most every type of food is available, much of the food focus tends to be on fresh ingredients, local products, and quality environments. Old Town is one hub for dining in Fort Collins with hundreds of options within walking distance of each other. Other great areas of the city for great food include the Campus West area, mid-town, the Harmony corridor, and more. Visit Fort Collins has a great Food Guide to help navigate the food scene in Fort Collins.
Another foodie option in Fort Collins are the many unique, artisan specialty shops. Nuance Chocolates creates mouthwatering bean-to-bar chocolate. Rebel Popcorn makes more varieties of delicious home-made popcorn than you can count. The Welsh Rabbit has an amazing assortment of fine cheese and other charcuterie items from around the world. Go to Old Town Spice Shop if you're looking for a wonderful array of spices or go to Ginger and Baker if you're in the mood for pie.
7. Watch a Game
Fort Collins is home to the Colorado State University Rams. The beautiful campus sits in the heart of Fort Collins and is open for tours year round. Beyond being a top-end academic institution, the University is also a cornerstone of the Fort Collins community. CSU also has great athletics programs including football, basketball, volleyball, and many more.
The new crown jewel of the CSU campus is the on-campus stadium. It is a state-of-the-art multipurpose stadium and is the home of the Football team. Catching a game there is a must if you are in Fort Collins during college football season. Sports fans can also attend a volleyball or basketball game at Moby Arena.
8. Play Golf
Believe it or not, you can play golf in Fort Collins all year. As long as there is no snow on the ground, the City courses are open. The off-season is great for golf because the courses tend to be less busy and the price is cheaper.
There are four municipal golf courses in Fort Collins, two 18-hole, and two 9-hole courses. The courses are well-kept and feature old growth cottonwood trees, narrow fairways, and some fun hole layouts. There is also a multitude of other municipal courses within an hour in neighboring towns as well.
Fort Collins is also home to several private courses including the Fort Collins Country Club and Ptarmigan Country Club. Unfortunately, this author has not been lucky enough to play any of them…yet.
9. Go Shopping
Fort Collins is not a well-known shopping destination, yet it has a surprising amount of unique and fun stores. Old Town is home to a large variety of retailers. Clothing boutiques, home goods, souvenirs, antiques, artisan foods are all widely available. Shoppers are able to park their vehicle and walk around the square and surrounding area to the many shops.
If you are looking for more brand name stores, Fort Collins has those as well. The newly rebuilt Foothills Mall is located in mid-town Fort Collins. The mall is home to many high-end retailers and brand name stores. The mall's beautiful expanse is also a great place to find a great restaurant or find something to do with the kids. They have a skating rink in the winter time, a movie theater and more. The southern end of the city, along Harmony Road, offers an array of fine retail locations at the Front Range Village. This 100-acre property is home to big-name retailers and other local hotspots.
10. Explore Art & Museums
If you would like to spend a day doing something entertaining and educational, Fort Collins has several museums and lots of art galleries to offer. The Fort Collins Museum of Discovery is a family-friendly, hands-on, science and history museum. The museum regularly features interactive exhibits that encourage learning, reflection, and fun. There are exhibits specifically designed for kids to interact, exhibits that feature the natural history of our area, and much more. The museum also features the OtterBox Digital Dome Theatre, a 35-foot diameter dome screen. The dome is both a planetarium and a theatre offering daily events.
The Fort Collins Museum of Art is another great place to visit. The museum's mission is to spread the power of visual art. They host multiple visual art exhibits and events throughout the year. Other interesting museums and art galleries in Fort Collins include Bee Family Centennial Farm Museum, The Center for Fine Art Photography, Avenir Museum of Design and Merchandising, the Global Village Museum of Arts and Culture and more.